Life Knows No Limits Here
Discover Where 62 and Better Can Take You
YOU'VE BEEN WAITING FOR THIS
It's the time of your life — time for luxury, convenience and community — and Residences on The Lane is the perfect choice for making the most of 62 and beyond. Located in the heart of Rockville Town Center West, these brand-new, luxury apartments are designed to provide everything you need to settle in, get down to living and thrive. Sleek, spirited layouts offer an abundance of natural light and modern-day features. Our unique collection of tailored amenities is as robust as your enthusiasm. And this outstanding, walkable location will keep you on your toes with endless possibilities for dining, shopping, entertainment and culture.
At 62 and beyond, you've got everything to live for — and it's all right here at Residences on The Lane.
*Must be 62+ to apply for current availability shown.
AFFORDABLE LUXURY,
THOUGHTFUL FEATURES
Residences on The Lane offers designer one and two bedroom floor plans that flaunt impeccable style and generous space for a 62+ lifestyle that will inspire, motivate and redefine your journey. Live luxuriously, play wholeheartedly and compromise nothing.
CONNECTED COMMUNITY,
FOREVER YOUNG
Quench your thirst for life in any way you choose at Residences on the Lane. Whether you express yourself creatively or focus your energy on staying fit, our amenity suite will keep you in touch with what's important—and forever young at heart.
PRIME TIME,
PRIME LOCATION
Considered one of the best places to live in Maryland, Rockville is dedicated to its roots and connected across it close-knit communities. This vibrant town is brimming with endless options and within easy access of all points north and south. Nothing can stop you now.
Plenty of Space to Unwind, Connect or Entertain
Direct Access to Rockville Metro Station
Stunning Entrance Lounge to Welcome You Home
Perfectly Situated in Rockville Town Center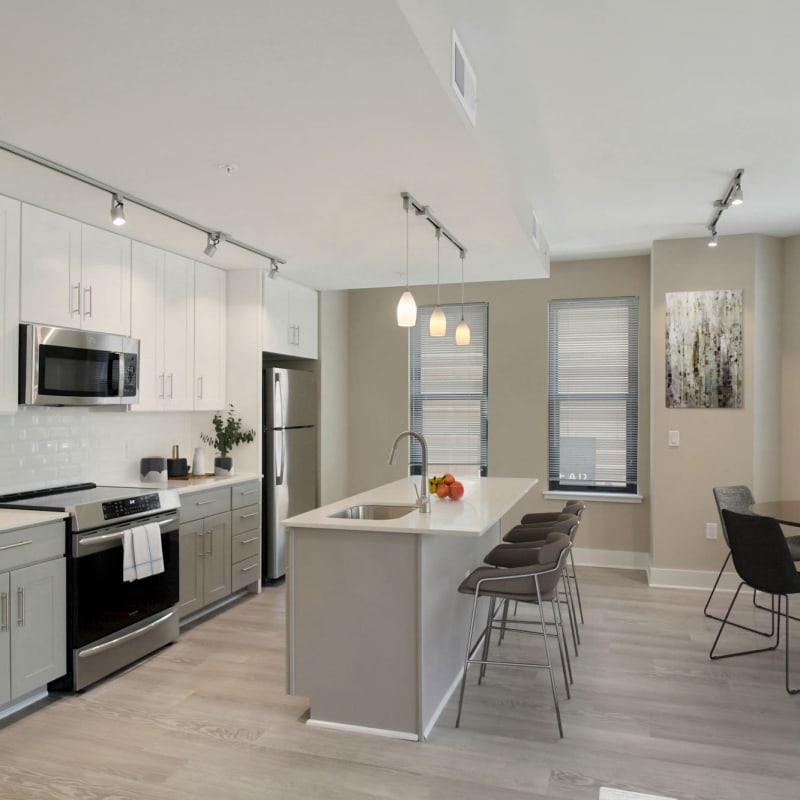 Open Layouts That Fit Your Life and Style
Explore Rockville's Shopping, Dining and Entertainment Outside Your Front Door
Spacious Windows and High Ceilings Complement the Modern Design
Host Game Night in Our Club Room
IT'S NEVER TOO LATE
LIVE FULLY, AUTHENTICALLY AND SPONTANEOUSLY
DOWNTOWN ROCKVILLE
WHERE ALL OF THIS AND MORE COMES TOGETHER